Bear Hunting Contract (Download PDF, Print & Fax or Mail)
2023 Bear Season
Week One: Aug. 28 - Sept. 1
Week Two: Sept. 4 - Sept. 8
Week Three: Sept. 11 - Sept. 16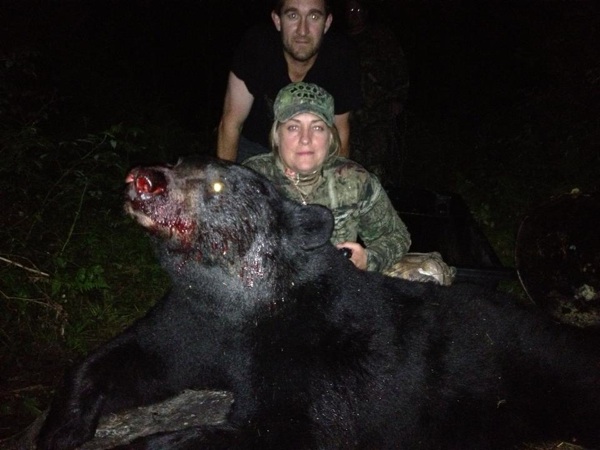 Bears are baited thirty days in advance of the hunt to insure that the bears are actively frequenting the stands. We lease over one hundred and eighty stands, located in the Allagash Wilderness area. We offer both right and left handed tree stands and ground blinds.
TROPHY BEAR HUNT, over active bait; arrive on Sunday morning and depart on Saturday morning. Bears are active in the morning as well so if there's bear activity in the morning we will do morning hunts as well as afternoon hunts.
We do not allow sows with cubs or cubs to be harvested at our camp. This is one of the many reasons why we are so successful at our establishment.
After claiming your trophy, the animal is professionally skinned and quartered to your specifications, and upon returning to camp. It is then put into frozen storage awaiting your departure. We also offer onsite taxidermy service for your convenience.
We also have excellent trout and muskie fishing available to you or you can hunt coyote once you have taken your bear.
Fully Guided Black Bear Hunts

- 5 Day Hunt $3000.00 includes food, guide, lodging and transportation. Ask about group rates.

Outpost Black Bear Hunt

- $2500.00 Includes food, guide, transportation ,lodging/tents.

Semi -guided black bear hunt

- 5 Day Hunt $2000.00 includes lodging, bait and stand sites.
Hunt prices do not include Hunting & Fishing License Fees
Dear Fellow Bear Hunter,

Thank you for choosing Allagash Wilderness Camps for your hunting needs for the upcoming bear season. Listed below is a list of items you may need or want to bring on your hunt.
Personal Items: toiletries, medicines, sleeping bag, towels & washcloths
Non-scented Items: soap, deodorant, clothing spray, mouth spray +/or pine scented gum, storage bag +/or tote (for hunting clothes: pre-wash in non-scent detergent prior to arrival)
Clothing: boots (all rubber only), Scent-Lok clothing (recommended), thermacell +/or bug net
Hunting Gear: seat cushion, strap on seat (bow hunters only), safety harness (optional), watch (non-metallic without leather), urine container, scope (rifle hunters only: sight at 50 yards prior to arrival), hunters safety card +/or previous hunting license, coyote call (coyote hunting only)
Fishing Equipment: muskie tackle, brook trout tackle, rods & reels
Optional items: camera; video camera, laptop, cell phone, VHF Marine Radio
If you should have any further questions or comments please feel free to contact us by phone or e-mail. Thanks again!
Please note, all photos below are one days harvest!
We are listed in the "North American Hunting Club", P.O. Box 3401, Minnetonka, MN 55343 and also listed in "Approved Outfitters & Guides Handbook.
Call in the Evening
Pricing table with an Table ID / Post ID of "11" is not defined.
In over 40 years of service at our camp,
2,800 bear have been taken with a
hunter success ratio of 70%